Global Talk rises to the 9th position in the 2023 Nimdzi Interpreting Index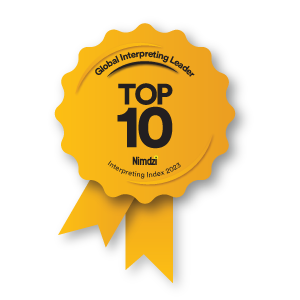 Global Talk has advanced from the 10th to the 9th position in the recently published Nimdzi Interpreting Index. The list has been compiled by Nimdzi Insights, an international research agency for the language industry, and provides an overview of the top 34 interpreting services in the world. "This is a milestone that we can be proud of", says Astrid van Rossum, CEO of Global Talk.
The 2023 Nimdzi Interpreting Index examines the interpreting market and ranks the biggest players based on their revenue. It also reports on the size, trends and development of this sector. The fact that Global Talk rises to the 9th position, is mainly due to the focus on quality and adapting to the shifting needs of clients. Van Rossum feels that the advance is a nice reward for the hard work performed within the organization. "It is evidence of the recognition for our work and the dedication from all interpreters and colleagues at Global Talk."
Second in Europe
Additional to climbing to the 9th position in the world, Global Talk has also advanced one rank within the scope of European organizations. Global Talk has risen one position to second place within the sphere of organizations offering interpreting services.
Read about the 2023 Nimdzi Interpreting Index here